Discover our 2 persons chalet
Descriptive
Mobil-home
Bedroom side: sleeping in the main room, a sofa / bed for 2 people. Duvets or blankets and pillows provided. Sheets not provided.
Kitchen side: TV, toaster, hob, fridge, microwave, coffee maker and complete crockery kit.
SDB side: shower, sink and WC Outside side: covered wooden terrace with garden furniture.
Age: more than 9 years and renovation 2011
Photos and plans are not contractual.
Map of the mobile home
>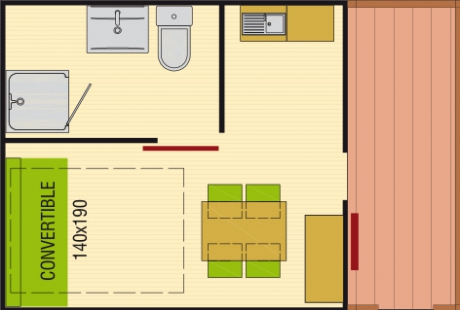 ZOOM
Rates & availability
WEEKLY BOOKING
Choose your dates then your mobile home range :
WEEKEND RESERVATIONS & SHORT STAYS
Compose your tailor-made stay with the search engine below: